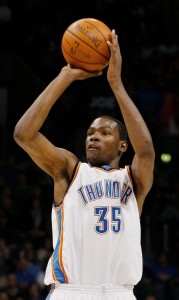 Team USA started training camp today in Las Vegas for their participation in the 2010 Men's World Basketball Championship.  This year's event takes place in Turkey after being held in Japan four years earlier.  Kevin Durant is one of 22 players invited to training camp for the Men's National Team.  He is expected by many to be the key figure of this summer's team, as the entire roster from the 2008 Beijing gold medal winning Olympic team will not participate.  Unlike the other participants, however, Durant has already been named a member of the World Championship team.  The roster will ultimately be trimmed to 12 players prior to leaving for pool play.
Durant last participated with Team USA during a three-day minicamp last year for players trying to make the Men's National Team.  Coach Mike Krzyzewski praised Durant for his play following the first day.  Coach K will attempt to build on his success at the Beijing Olympics and guide a new roster of players to a World Championship after a disappointing showing at the 2006 event in Japan.  Team USA finished third in 2006 behind Greece and champion Spain.
The 2010 FIBA (International Basketball Federation) World Championship for Men will be held Aug. 28-Sept. 12 in Ankara, Istanbul, Izmir and Kayseri, Turkey.  Twenty-four teams will compete in the 2010 FIBA World Championship for Men and those teams were divided into four preliminary round groups consisting of six teams each.   The United States was drawn on Dec. 15 into preliminary round Group B, and is joined by Brazil, Croatia, Iran, Slovenia and Tunisia.  The winner of the 2010 FIBA World Championship automatically earns a berth in the 2012 London Olympics.
Note:  JaVale McGee was added to the roster today, bringing the total invitees to 22.
Tags: Kevin Durant